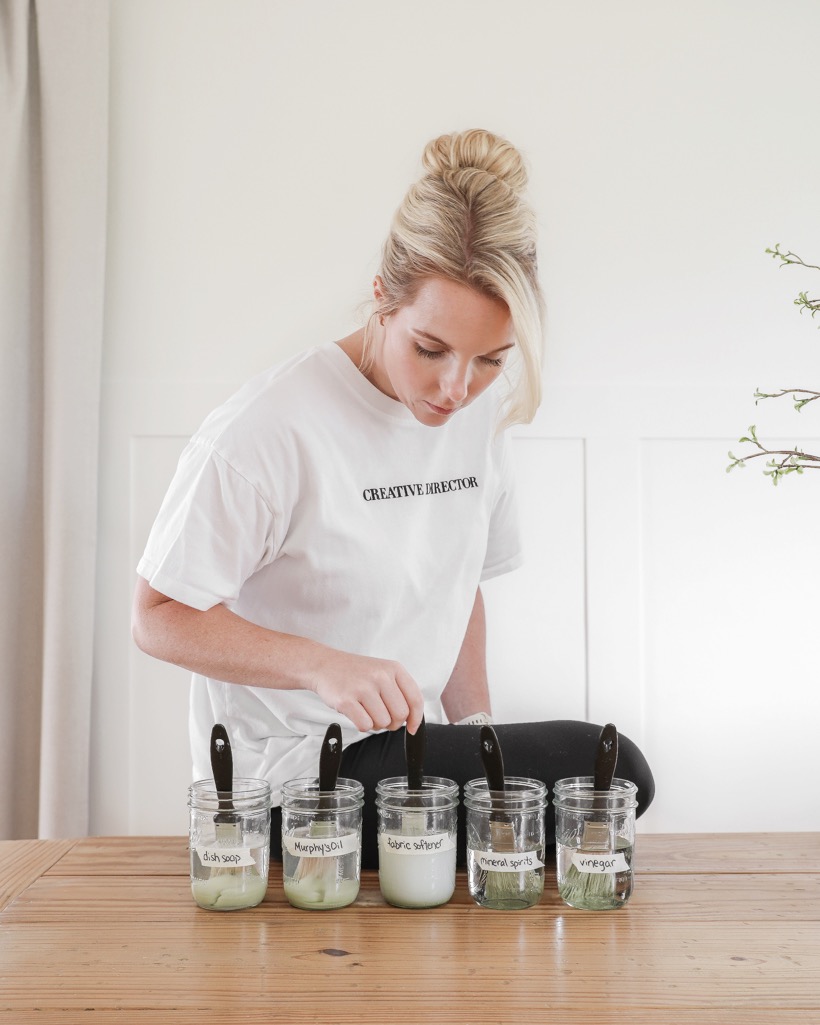 After our painting marathon a few weeks ago in the living/dining/entryway, I remembered how much I dislike the process of cleaning up after a big project like that. I've always wondered if there's a better/easier way to go about cleaning paint brushes, so this week we're testing a handful of different methods to clean your drippy, messy, even crusty paint brushes!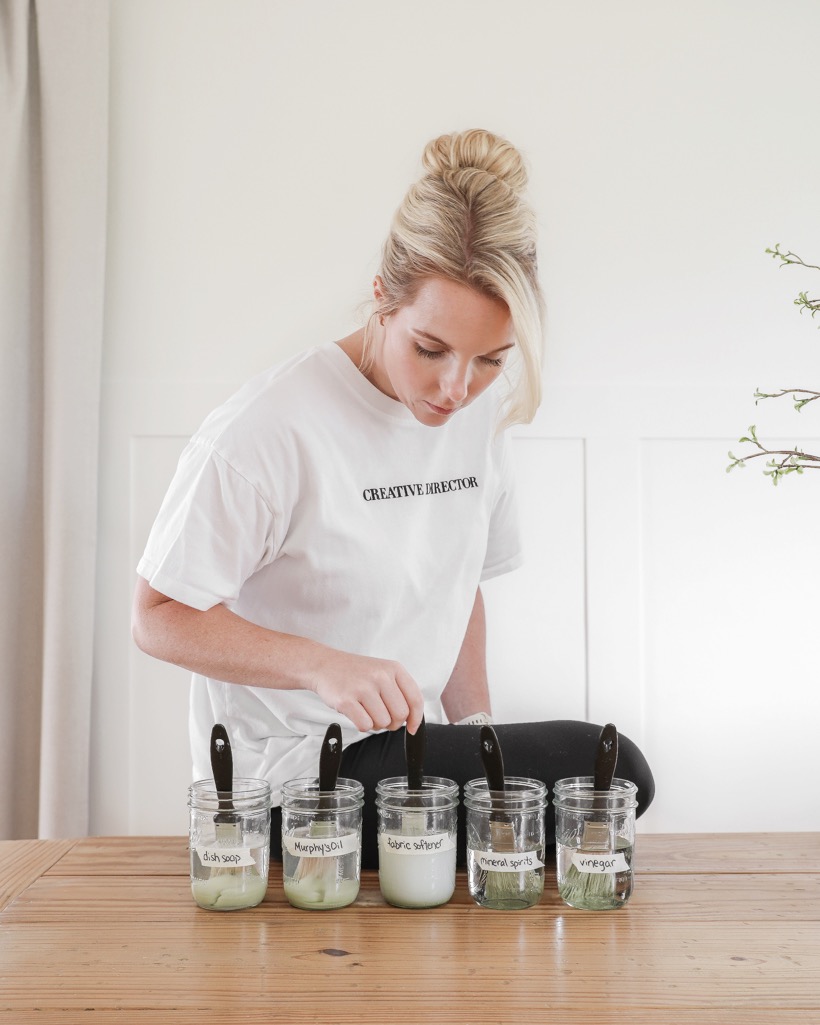 The Test:
We researched dozens of methods for cleaning paint brushes and came up with the top 5 suggestions:
dish soap – plus warm water
Murphy's oil soap – plus warm water
fabric softener – plus warm water
vinegar
odorless mineral spirits
In order to simplify the experiment, we decided to only focus on cleaning water-based paint for this round.
Mineral spirits is meant to be used with oil-based products, but instead of eliminating this cleaning agent from the experiment, I decided to leave it in for a few reasons. If you do a quick Google search on how to clean paint brushes, mineral spirits is a product that comes up very frequently, and I'm willing to bet people have attempted to use it with water-based paint unsuccessfully. I wanted to test it out myself to see the results and share so no one here hopefully makes that mistake!
I tested the above methods with both fresh, wet paint and paint that had dried and hardened. Here's what happened: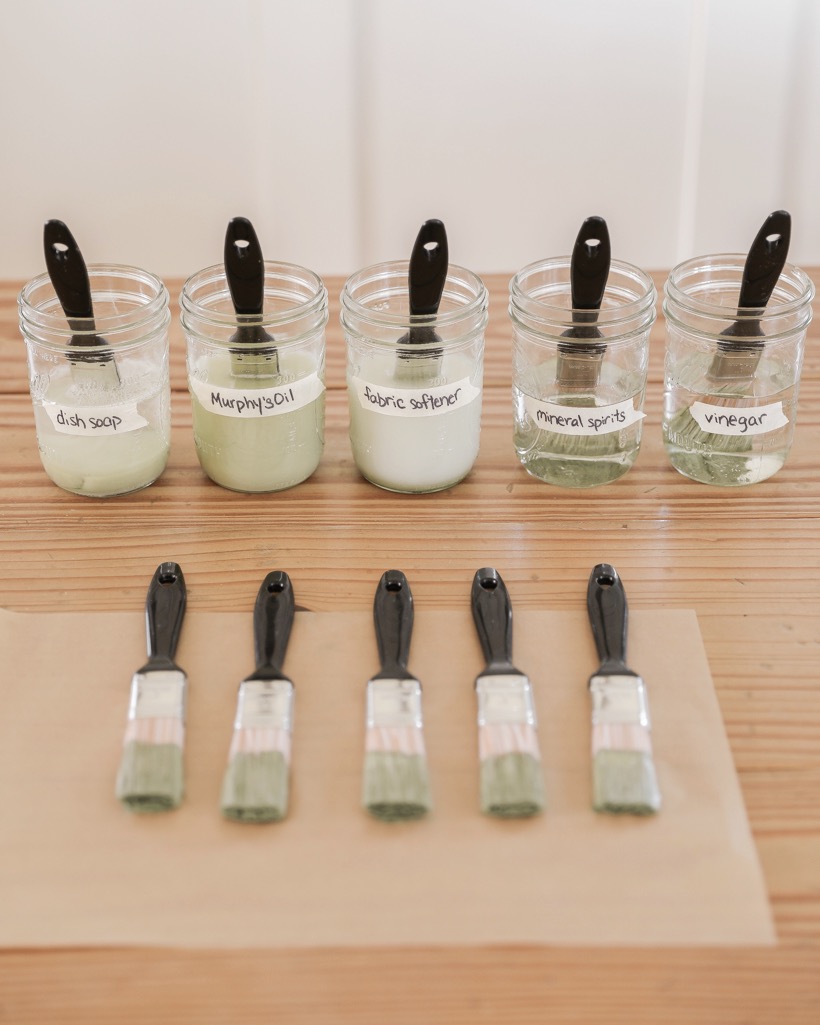 Wet Paint – The Results:
For the first round, I dipped the brushes in green paint and put them directly into a mason jar with one of the 5 solutions: dish soap/water, Murphy's oil soap/water, fabric softener/water, mineral spirits, and vinegar.
After an hour or two, I swirled the brushes in the jars, pulled them out, and rinsed them in clean water, using a brush comb to help remove the paint.
Here is how they performed:
Murphy's Oil soap + warm water – The soap and suds made a huge difference in being able to easily remove the paint, but the big difference with this method is the oil soap, which not only cleans but provides some slip and conditioning on the bristles. I would say this soap brought the brush back to looking brands new more than any of the others.
Dish soap + warm water – This method was pretty comparable to the Murphy's oil soap, and the suds and water cleaned up the brush beautifully. You could see very little green on the bristles by the time I was done cleaning. Easy, simple, effective.
Fabric softener + warm water – This method was supposed to help soften and melt the paint away, but I honestly think the oil soap did a better job of that than the fabric softener. It did clean the paint decently well, but I felt like I still wanted to wash it with soap afterwards.
Vinegar – This worked, but definitely not as well as the soaps. Plus it stinks.
Mineral spirits – As I assumed, this did not work at all. It seemed to actually coat or harden the paint somehow and made it impossible to clean even using the soap methods afterwards.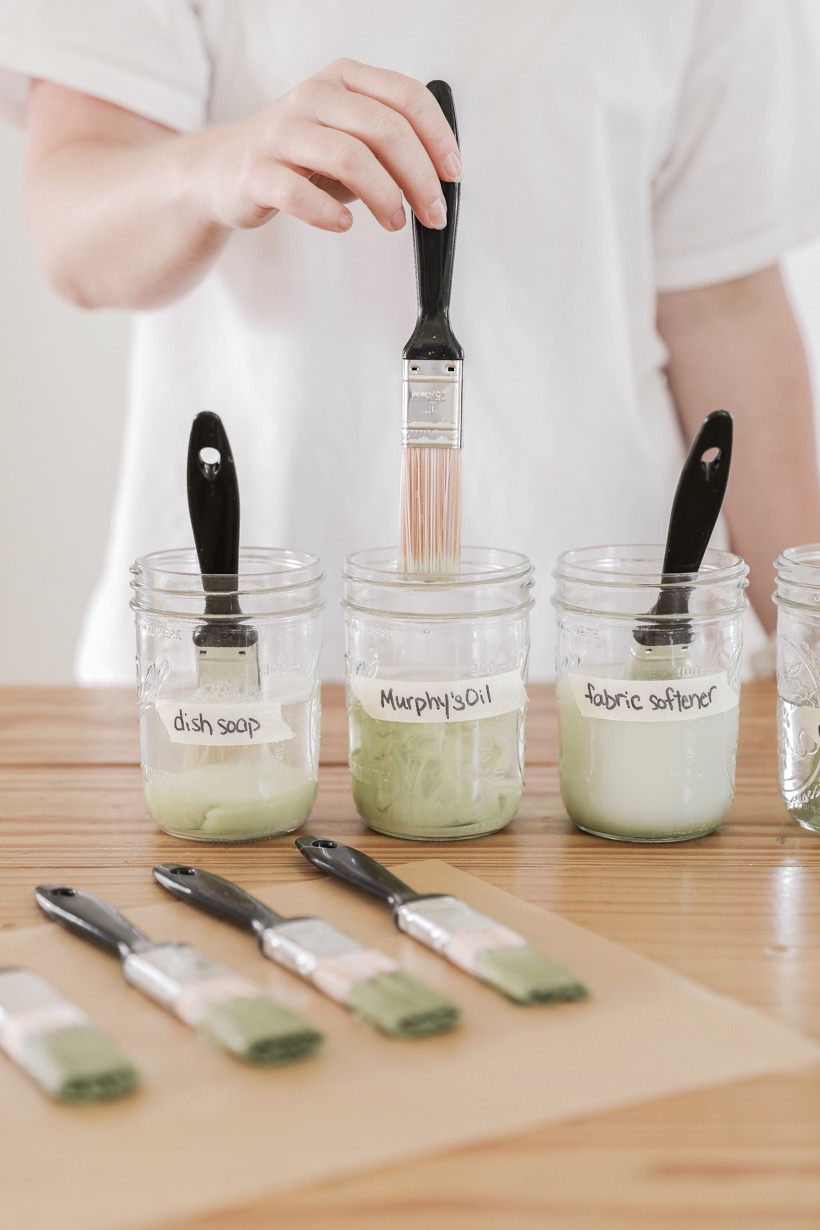 Dry Paint – The Results:
For the second round, I dipped the brushes in paint and left them out to dry completely. Once the bristles were stiff and crusty, and I placed them in mason jars with one of the 4 solutions – I left mineral spirits out this time since I ruled it out completely and didn't want to ruin another brush.
I let them sit overnight, then cleaned them in the same way I did the others. Because they had such a long time to soak, there wasn't as big a difference in how each method performed. But it was definitely clear that cleaning paint that had hardened on the bristles is much more difficult than cleaning wet paint that slides off more easily.
Here is how they performed:
Murphy's Oil soap + warm water – The soaps still outperformed the other methods, and again, I found the slip and conditioning from the oil soap to be the most helpful.
Dish soap + warm water – Not quite as good as the Murphy's Oil, but it did do the job.
Vinegar – I put vinegar above fabric softener for this round because it seemed eat away at the paint better after sitting for a long time. But it definitely would not be my first choice.
Fabric softener – While it did soften the hardened paint, I wouldn't say it was very effective at cleaning all the paint off the bristles.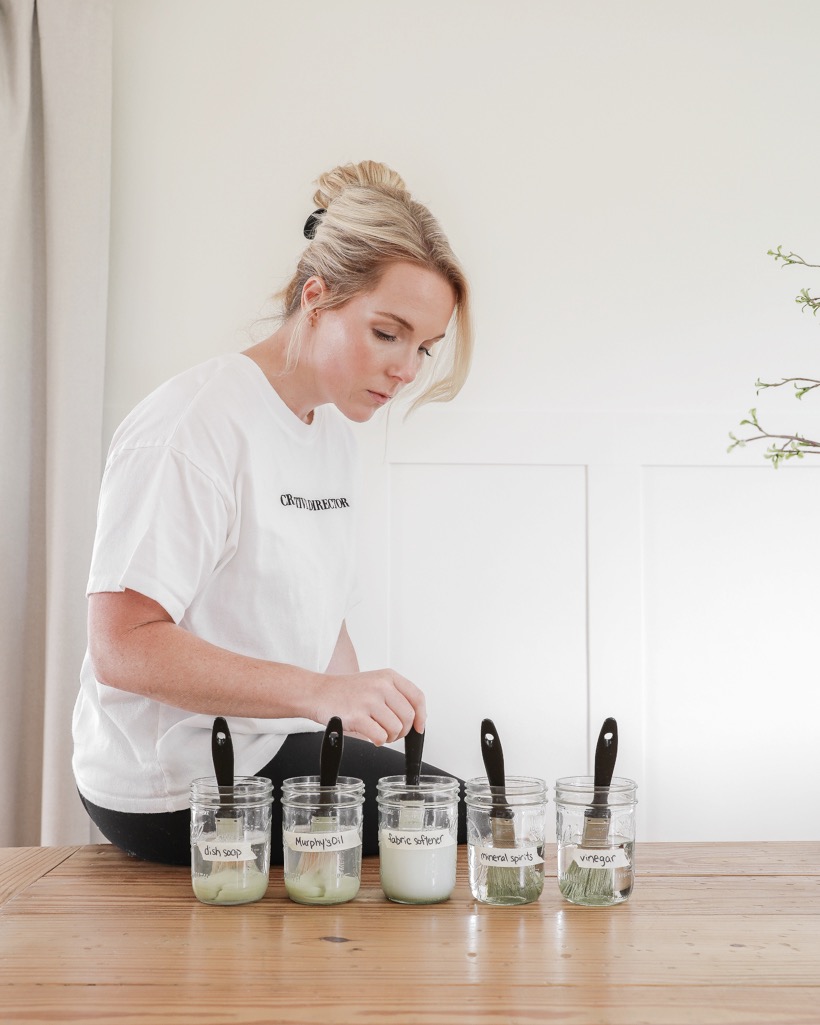 Overall, I would say the best way to clean your brushes is to not allow the paint to dry and use a simple combination of warm water and soap. A couple drops of dish soap will do the trick, but if you have Murphy's Oil soap on hand, it will help the bristles stay nice for longer!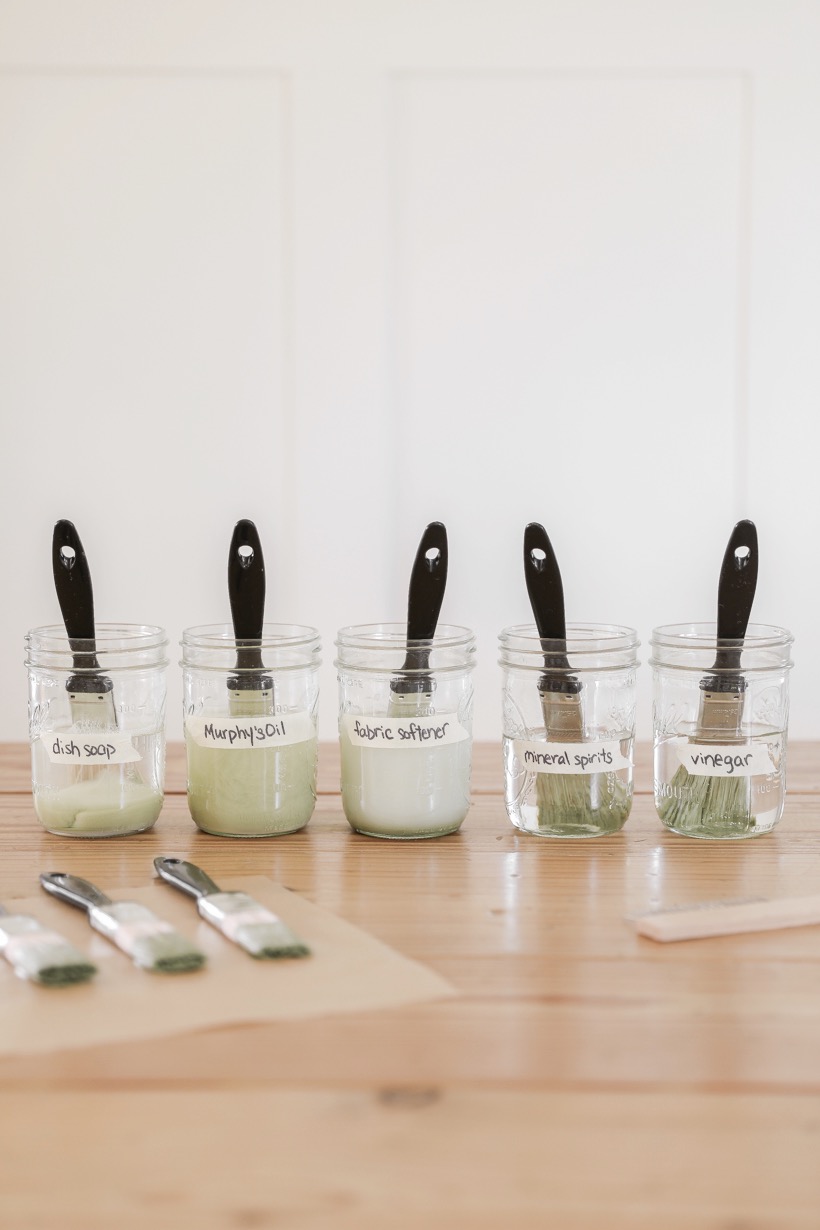 What is your favorite way to clean paint brushes? Would you like to see me test out methods with oil-based paint as well? Let me know in the comments!
---
Our Store: Grow + Gather
Shop my Posts | Shop my Amazon Store
Join our Community | Follow on Instagram
Follow on Pinterest | Follow on Facebook