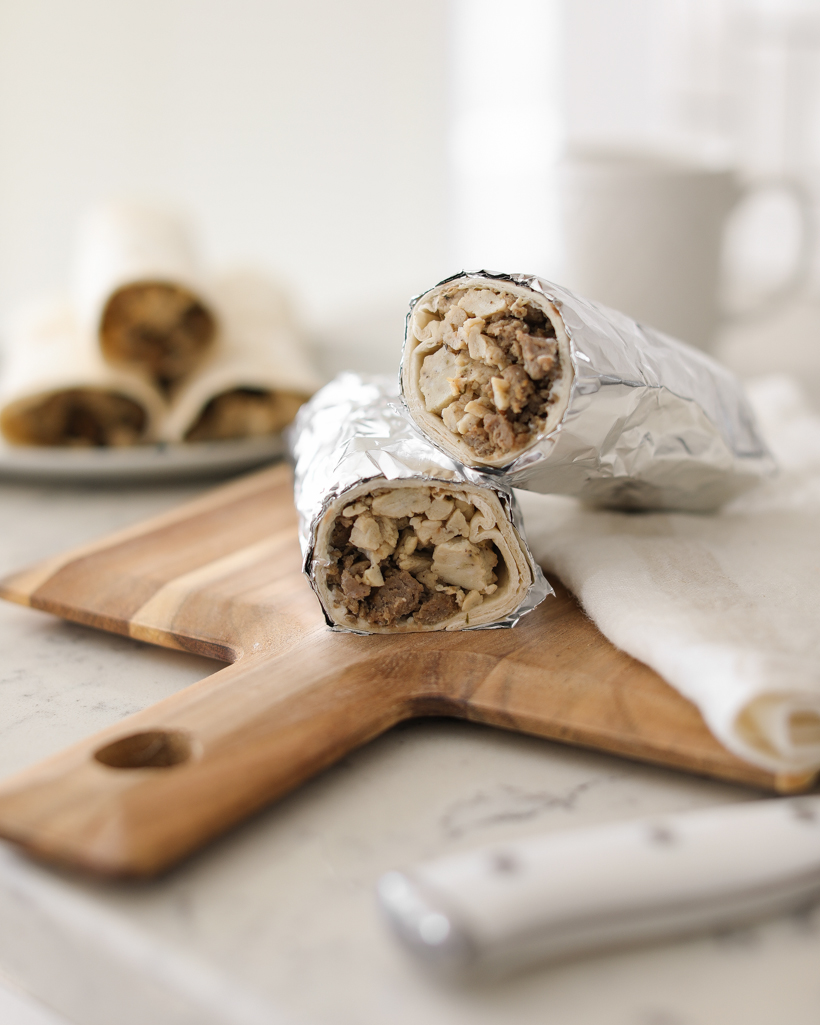 Now that school is back in session and I have two hungry teenage boy football players to feed, I've been making a lot of quick, ready to reheat and eat type of meals to accomodate our busy schedule. One thing that has become a staple in our house over the last few months is breakfast burritos, and we love this healthy, simple sausage and egg version.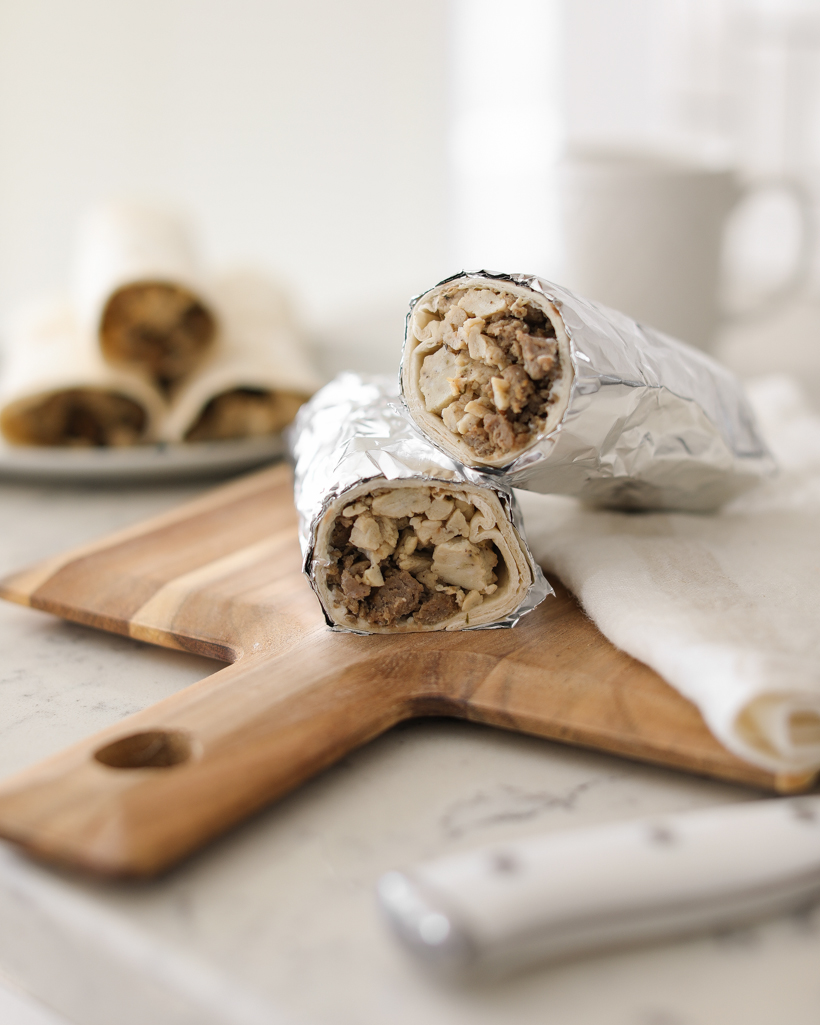 Breakfast burritos are so easy to make and endlessly customizable. You could use a different meat like ham, chorizo or bacon. You could add a bunch of veggies like bell pepper, mushrooms, tomato, or spinach. Whatever your taste buds desire, you can put in these breakfast wraps.
If you are watching your carbs, you could use low-carb tortillas like I do, or if you're watching your fat intake, use turkey instead of pork sausage and look for a reduced fat cheese.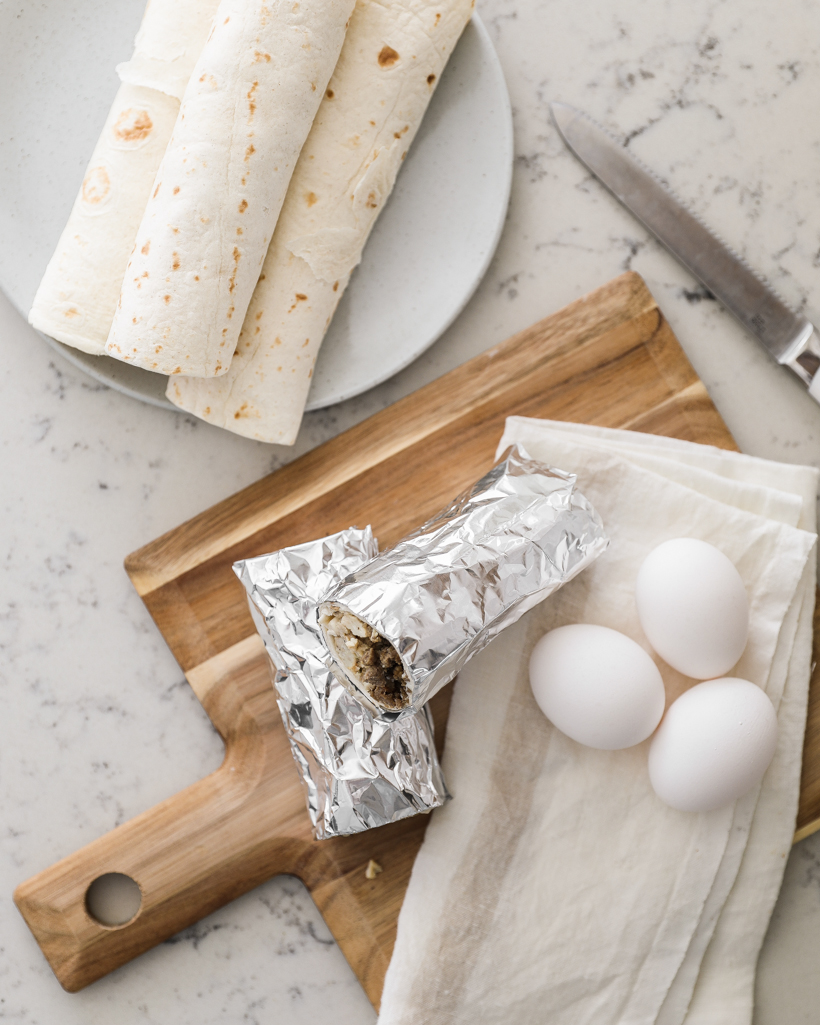 TO STORE:
Wrap each individual burrito in foil and refrigerate until ready to use.
TO REHEAT:
You can reheat the burritos in the oven at 350ºF or in the microwave for 1-2 minutes (remove the foil first). But my favorite method is reheating in the air fryer, which is quick and crisps up the tortilla so it isn't soggy after sitting in the fridge!
TOPPINGS:
The burritos are delicious as is, but if you want to add some extra flavor or freshness, here are a few ideas:
avocado
hot sauce
salsa
cilantro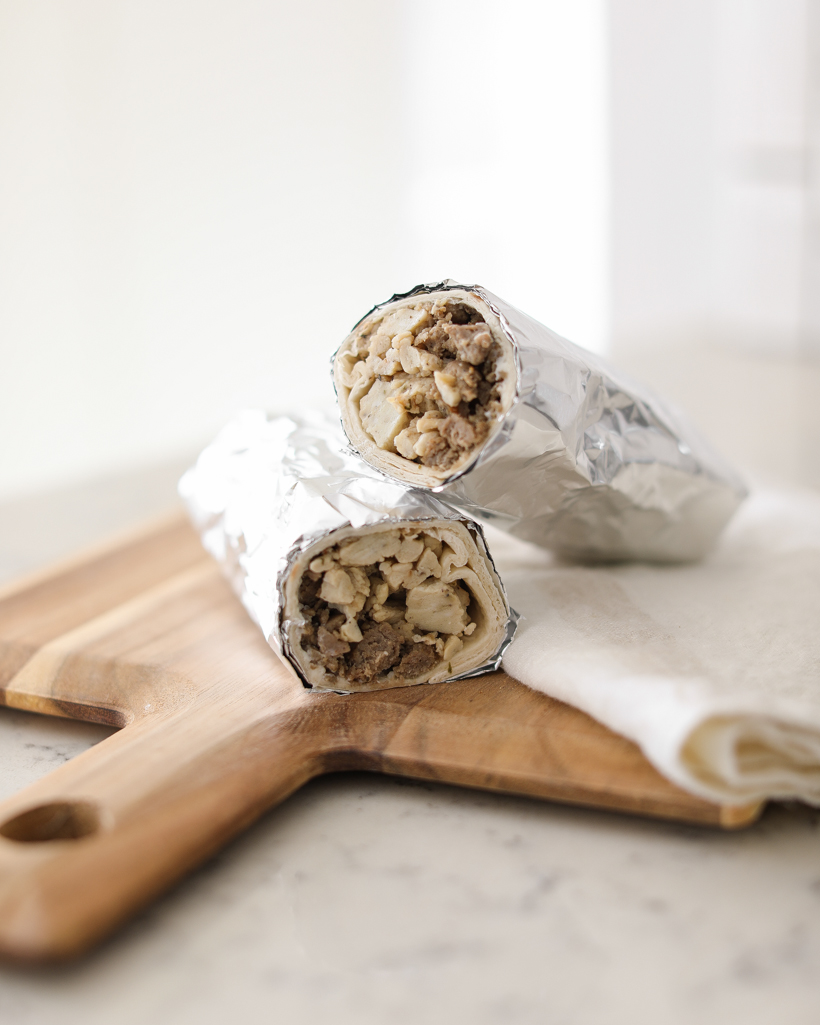 Healthy Sausage and Egg Breakfast Burritos
INGREDIENTS
1 lb. lean ground turkey sausage
6 large eggs
16 oz. egg whites
1 ½ teaspoon garlic powder
1 ½ teaspoon Italian seasoning
½ teaspoon salt
½ teaspoon pepper
8 flour tortillas – I use low carb tortillas
4 laughing cow light cheese wedges
INSTRUCTIONS
Add the turkey sausage to a large skillet over medium heat, and cook, breaking the sausage into crumbles as you go, until browned. Remove the sausage from the pan, drain fat if needed, and set aside.
In a large bowl, combine the whole eggs, egg whites, garlic powder, Italian season, salt and pepper and whisk until well combined. Place the same pan back over medium-low heat and cook the eggs, stirring constantly, until cooked through and scrambled.
Spread half a cheese wedge on one side of each tortilla, and divide the sausage and eggs evenly between all 8 tortillas. Roll each tortilla into a burrito, then wrap each burrito in foil. Store the breakfast burritos in the refrigerator up to 5-7 days. To reheat, unwrap the burrito and place in the microwave or air fryer until warmed through.
NOTES
For higher calories/macros: use all whole eggs instead of egg whites, regular tortillas, cheddar cheese, and pork sausage

For lower calories/macros: use a combination of whole eggs and egg whites or all egg whites, low-carb tortillas, reduced-fat cheese, and turkey sausage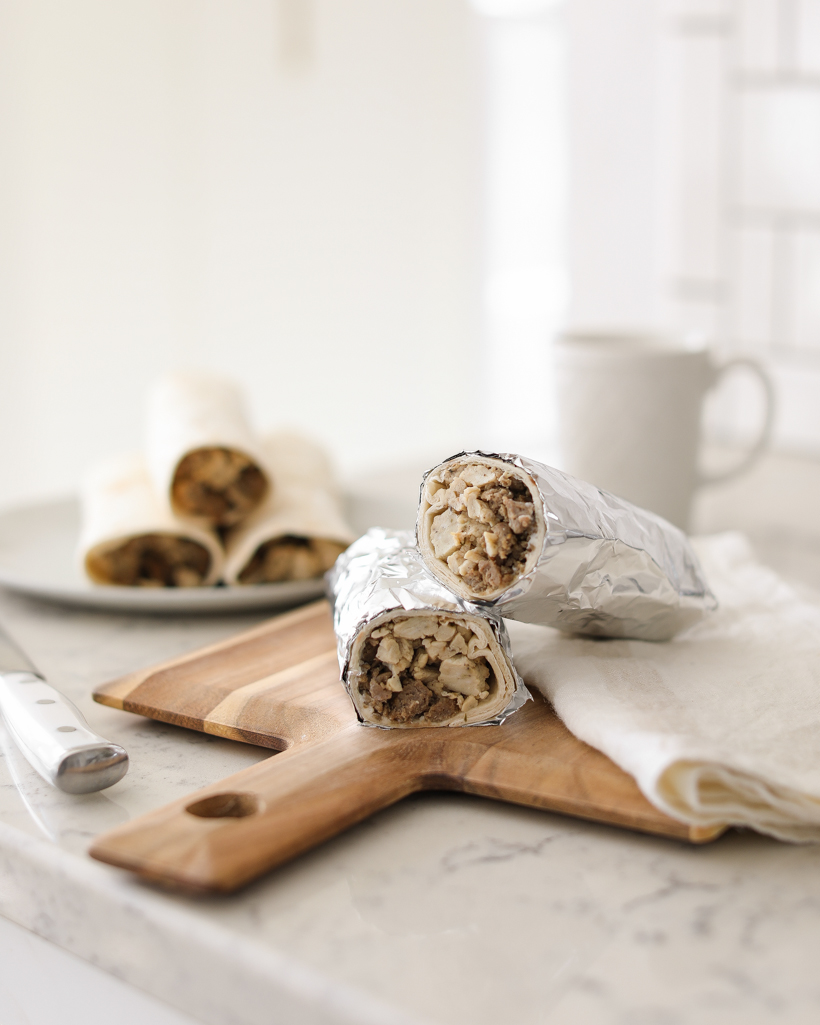 More Breakfast Ideas:
SHARING IS CARING! IF YOU MAKE THIS RECIPE, TAG @LIZLOVEGROWSWILD ON INSTAGRAM!
---
Our Store: Grow + Gather
Shop my Posts | Shop my Amazon Store
Join our Community | Follow on Instagram
Follow on Pinterest | Follow on Facebook