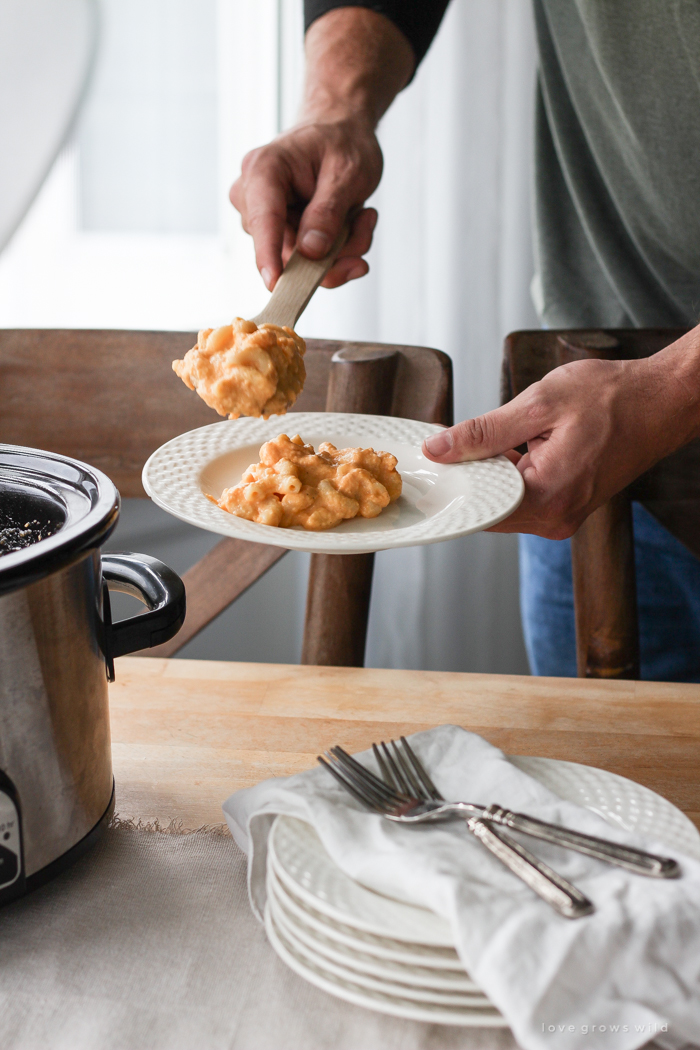 There are few things in life better than a good mac and cheese recipe, and this one is not only perfectly cheesy and creamy, but it's also made in the slow cooker! I've partnered with the American Dairy Association Mideast today to bring you this delicious recipe, plus a special opportunity for you to give back this holiday season!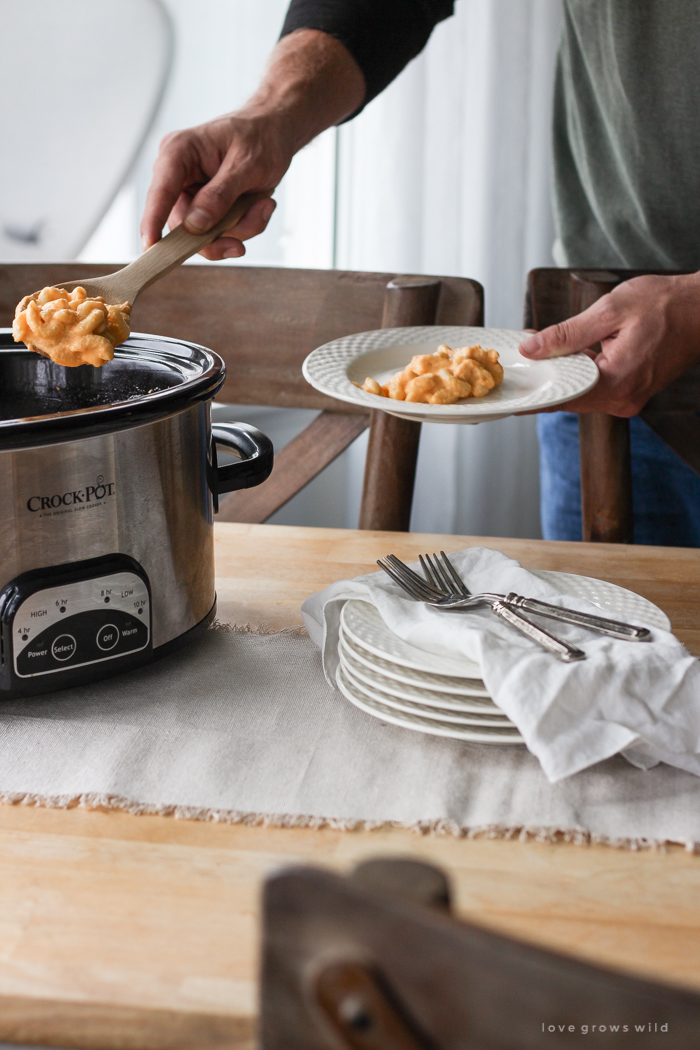 In the past I have always put my mac and cheese together and baked it in the oven, but using this slow cooker method is great for bringing this dish to potlucks and parties and holiday gatherings. The cheese sauce is super creamy and flavorful, and I even made this recipe just a tad bit healthier by adding some Greek yogurt to replace the need for whole milk without losing any creaminess. The way I look at it… every calorie saved during the holidays means that many more Christmas cookies I get to enjoy. : )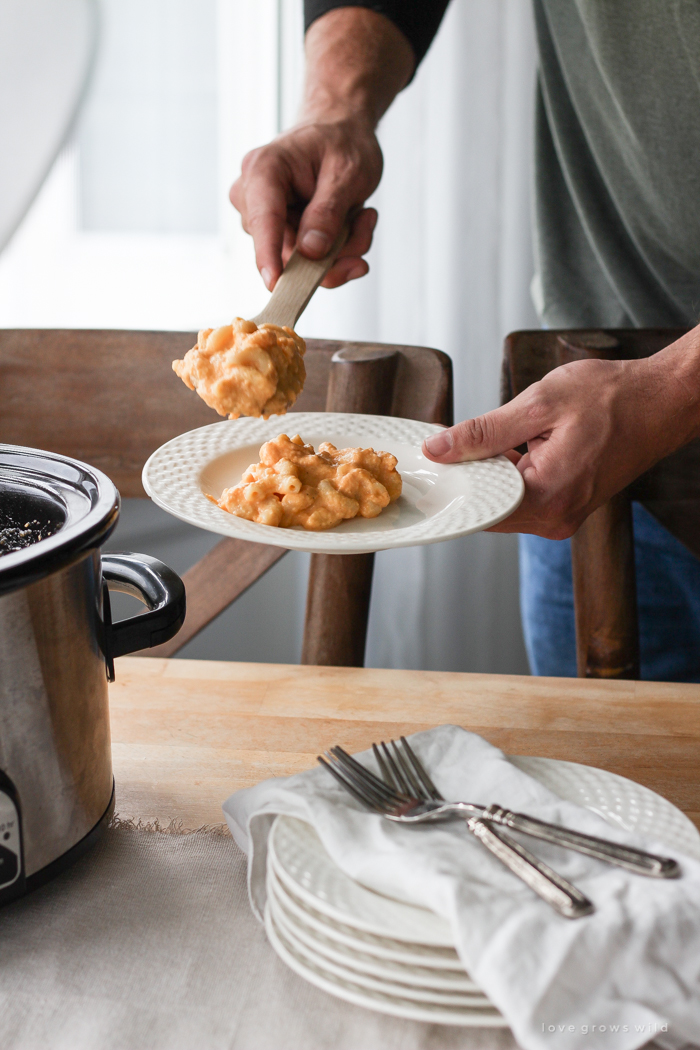 Speaking of dairy products, I had the great pleasure of partnering with the American Dairy Association Mideast again this year to help support the Great American Milk Drive. Did you know that milk is the number 1 nutritious product requested by food bank clients, but is rarely ever donated? The Great American Milk Drive is delivering thousands of gallons of milk to families who would otherwise go without. ADA Mideast will donate 25 cents, the average cost of 1 glass of milk, to the Great American Milk Drive for every new follower on Facebook, Twitter and Instagram through Monday, Dec. 12, up to $2,500. You can also help donate milk this holiday season by visiting www.MilkLife.com/give. A $5 donation gives a gallon of milk to a family in-need.
Join me and 4 other food bloggers to celebrate the holidays while also giving back at a Give Gallons Twitter party on Tuesday, Dec. 6, from 9-10 p.m. EST, hosted by the American Dairy Association Mideast. Get holiday recipe and cooking tips, and share healthy 2017 resolutions. For everyone who attends and uses #GiveGallons, 25 cents will be donated to Feeding America's Great American Milk Drive to help give milk to those who need it most in our communities. You can RSVP here: http://vite.io/givegallons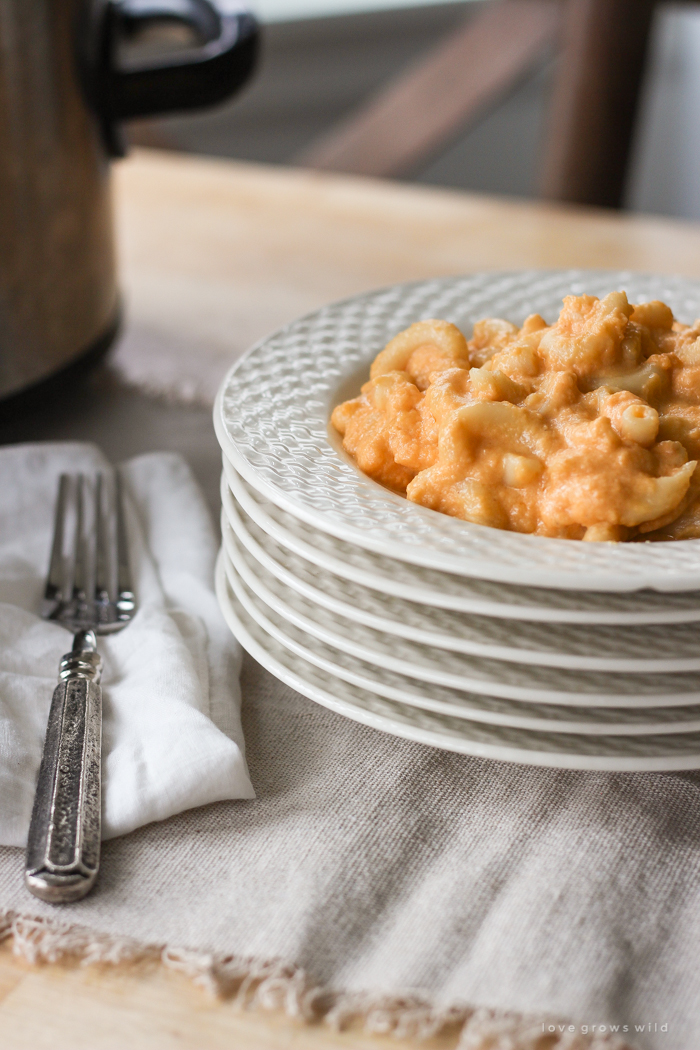 Here are a few tips for incorporating more dairy into your holiday cooking:
Cooking with milk is an easy (and delicious!) way to add calcium and other essential nutrients to holiday dishes. Milk also adds a bit of sweetness to recipes and encourages the browning reactions you see in many tasty holiday treats, such as in pastry crusts and cookies.
Lighten up holiday dishes with Greek yogurt! Greek yogurt is high in protein, which helps to keep you fuller longer, and it packs in dairy's 9 essential nutrients. It adds creaminess and tang, too. Try it in place of heavier ingredients in dips, sauces and soups!
To make holiday beverages like hot chocolate and lattes extra creamy, swap out milk for water. Adding milk adds a boost of calcium and protein, too!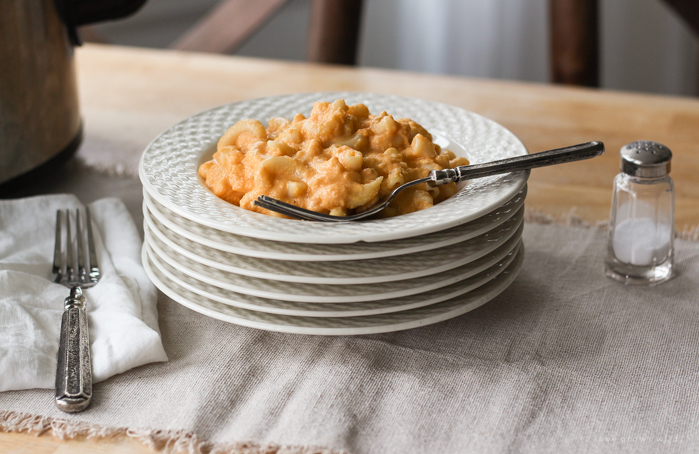 Slow Cooker Macaroni and Cheese
INGREDIENTS
8 ounces elbow macaroni
¼ cup unsalted butter
16 ounces sharp cheddar cheese, shredded
1½ cups low-fat milk
1-12 ounce can evaporated milk
1 teaspoon Dijon mustard
½ teaspoon salt
⅛ teaspoon pepper
½ cup Greek yogurt.
INSTRUCTIONS
Cook the pasta in boiling salted water to al dente, about 6-7 minutes, then drain and set aside. In a medium saucepan, heat the butter and cheese on medium low heat and stir until completely melted.
Lightly spray a slow cooker with nonstick cooking spray and add the melted cheese and butter mixture, cooked noodles, milk, evaporated milk, mustard, salt and pepper. Stir to combine and cook covered on low for 2-2½ hours, stirring occasionally, until the noodles are tender and the sauce has thickened.
Add the Greek yogurt and stir until completely combined. Turn off the slow cooker and serve hot.
adapted from Trisha Yearwood
This post is sponsored by the American Dairy Association Mideast, but all thoughts and opinions are 100% my own. Thank you for supporting the brands that make this blog possible!
---
LET'S KEEP IN TOUCH!
---
Subscribe to Blog | Follow on Instagram
Follow on Pinterest | Follow on Facebook