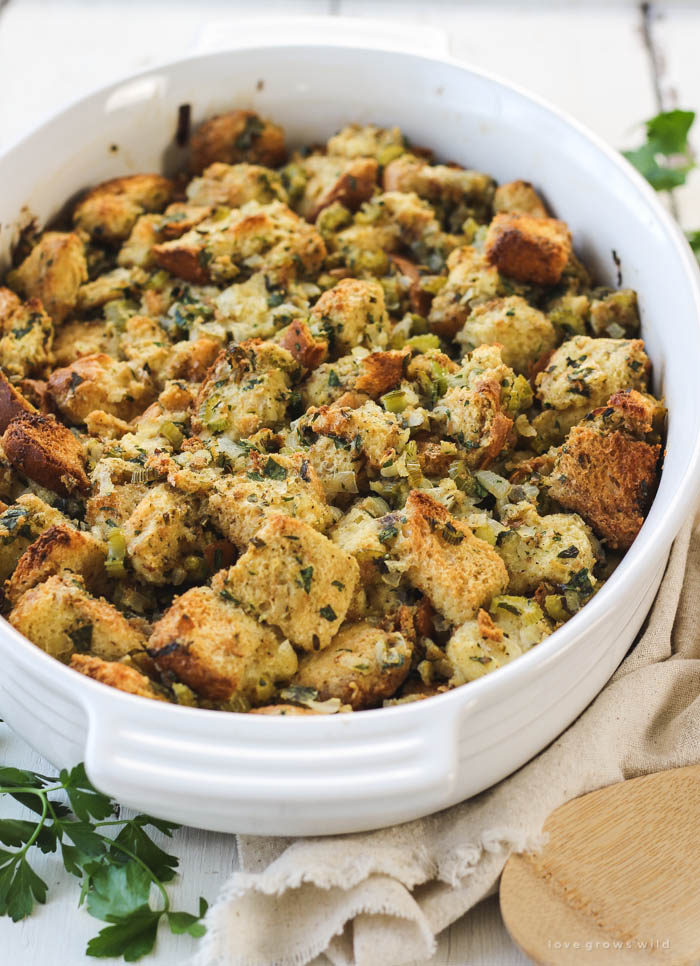 Sponsored by Meijer // This simple homemade stuffing is perfect for weeknight dinners and a MUST for the holidays!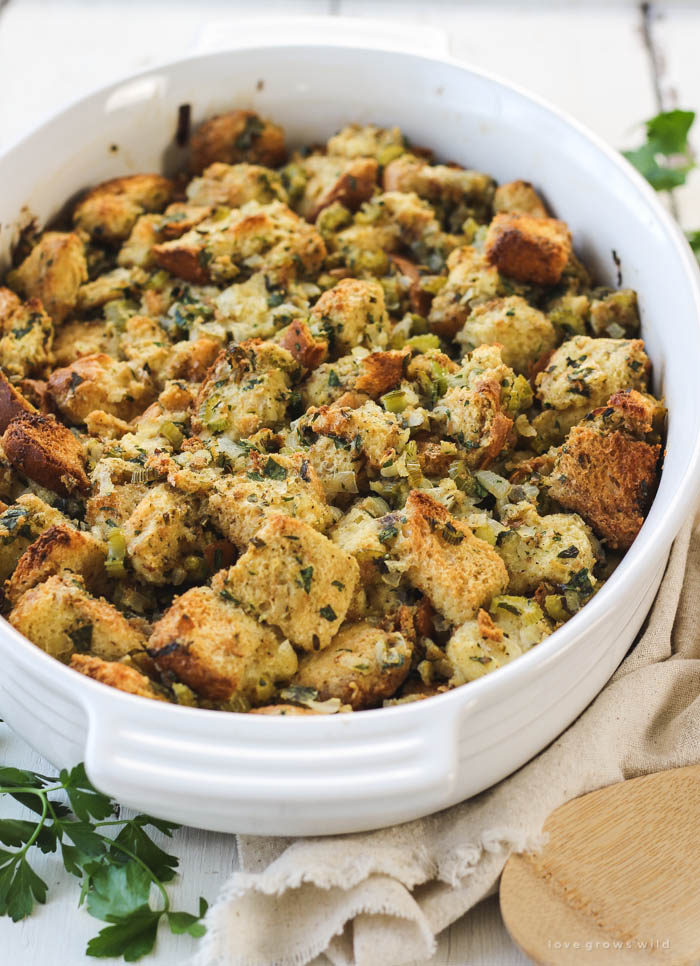 In case you were starting to worry that I was going to skip right over Thanksgiving and dive straight into Christmas, today I'm sharing one of my favorite turkey day classics. The best homemade stuffing with the perfect balance of herbs and a buttery, crispy top!
When I was growing up, boxed stuffing was all my family made for the holidays. It was easy, delicious, and I never knew anything different. But as I got into adulthood and spread my culinary wings a bit, I had my first taste of REAL homemade stuffing. "Wow… so THIS is what stuffing is supposed to taste like!" Big, buttery cubes of bread still soft and tender on the inside, but crispy and perfectly crusty on the outside. The perfect blend of herbs mixed with tender, buttery vegetables. Your Thanksgiving menu deserves a stuffing recipe like this!
There are a million different varieties of stuffing out there, but this one is simple and what I would call "traditional". Feel free to jazz it up with other ingredients if you like, but if you're looking for a great classic stuffing to use year after year, this is the one!
I use regular, old white sandwich bread for this recipe, but just make sure it's a good-quality, firm loaf. I do 99% of my grocery shopping at Meijer and stop by the bakery section to get one of their freshly-baked loaves of white bread. And some stuffing recipes I've tried call for ALL fresh herbs, but when you're talking about 4, 5, or sometimes 6 different herbs, that can get pretty pricey. Instead, just use dried herbs for the majority of the flavor and pick up a bundle of fresh parsley for a pop of freshness throughout the dish. Oh, and I even made it REALLY simple for you… I just use a pre-mixed poultry seasoning!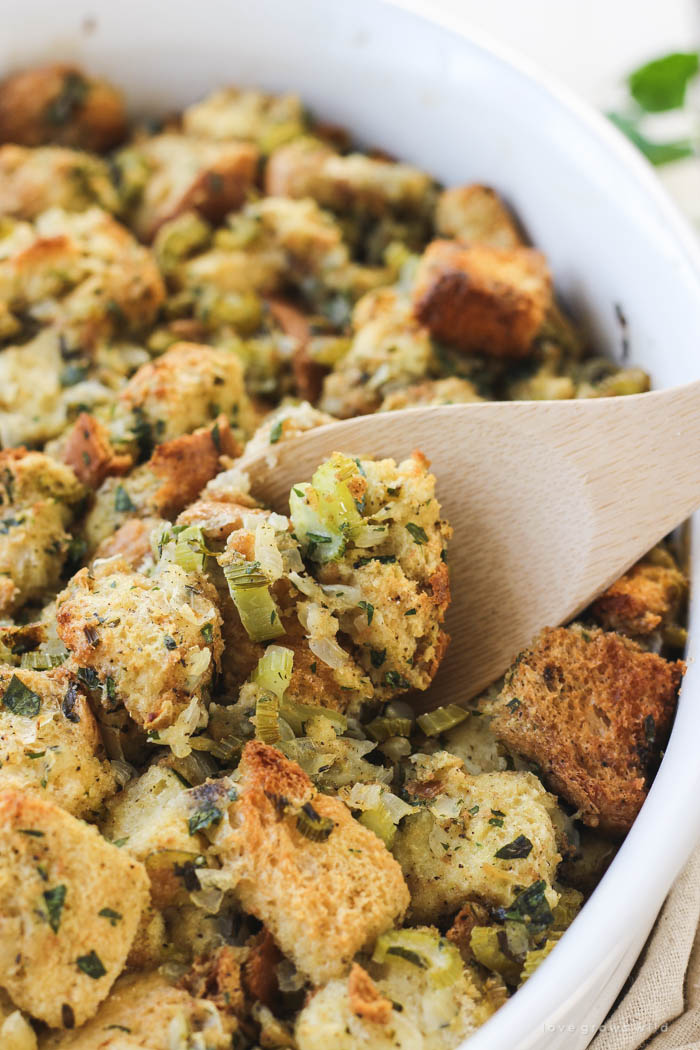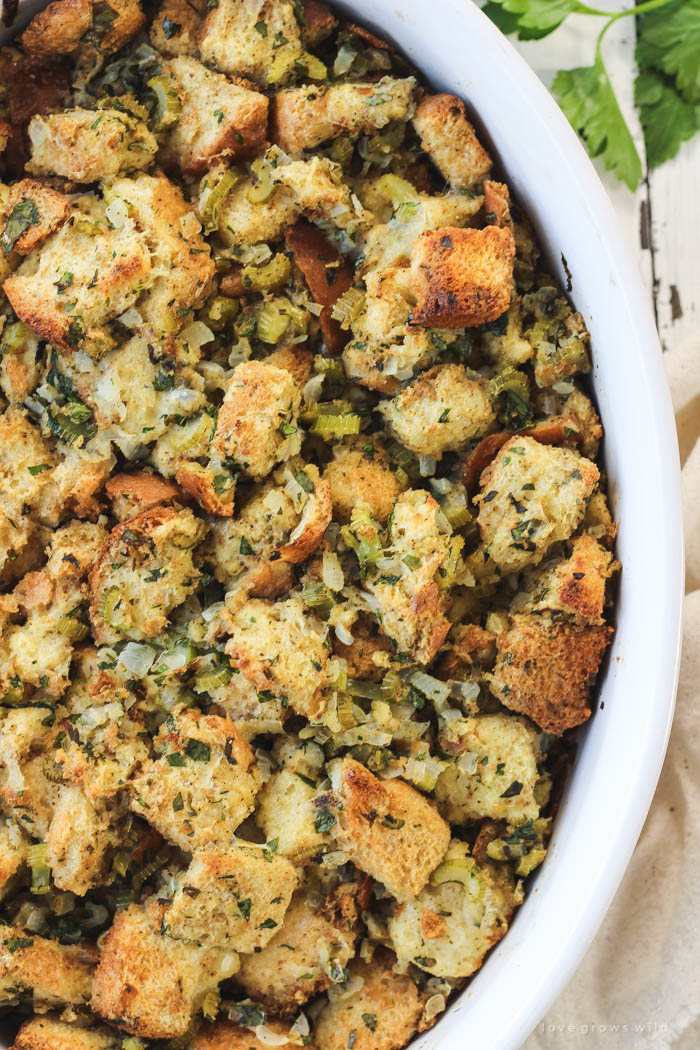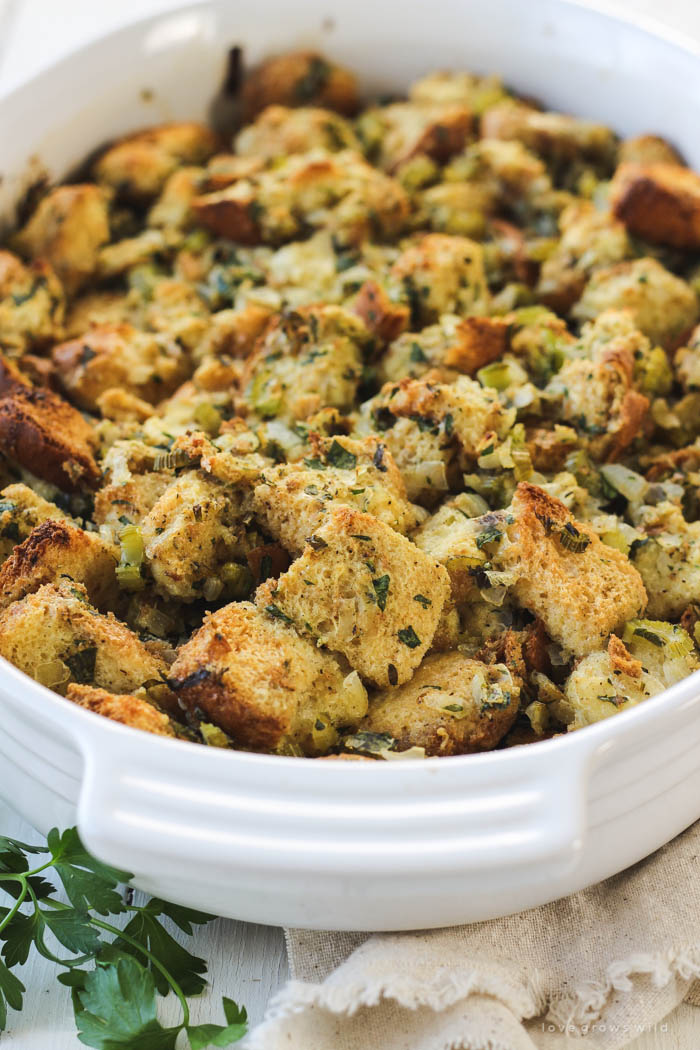 While I was at Meijer picking up groceries to make this stuffing for you guys, I made a pit stop in their home and kitchen section. A few new kitchen items from Grand Gourmet may or may not have hopped into my cart…
I picked up some new baking sheets to toast my bread cubes on…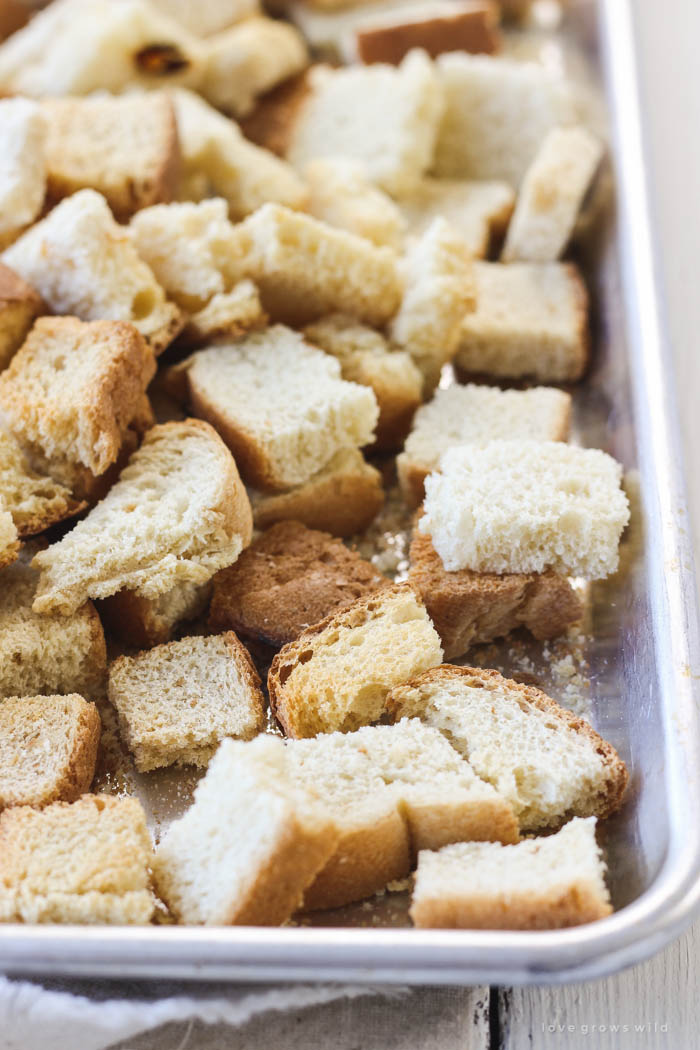 a new set of skillets to cook my vegetables in…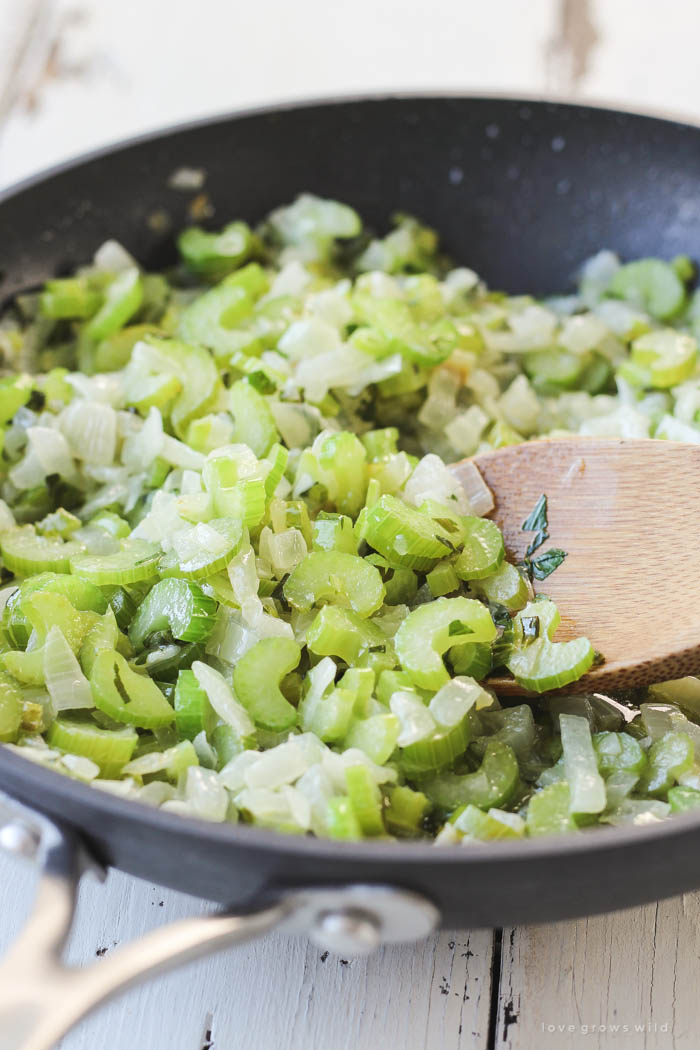 and a new set of measuring cups and spoons because seriously, why am I ALWAYS losing them?? I swear my sink eats them somehow…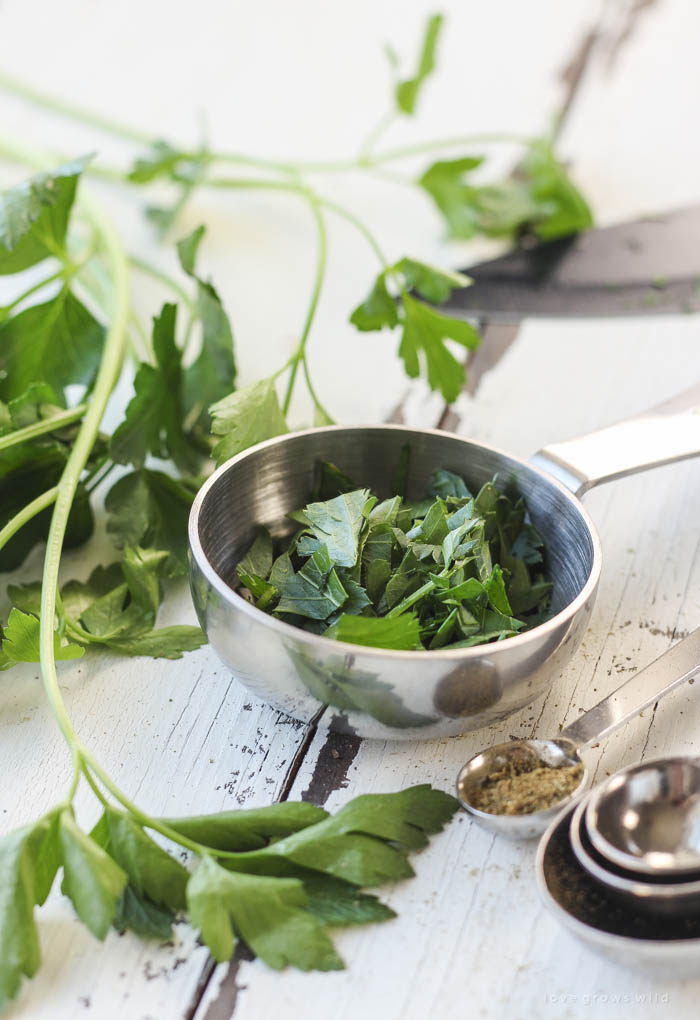 I love Meijer's Grand Gourmet product line because of how affordable, yet high-quality it is. After cooking with my old, scratched-up skillets for years and years, this new cookware was SUCH a treat. And because it's holiday time, and I'm feeling all the warm, fuzzy holiday feelings, I'm giving away a gift basket FULL of Meijer Grand Gourmet kitchen essentials and holiday entertaining items to one of YOU! Keep scrolling down to get this delicious stuffing recipe, and you'll find the giveaway entry form below the recipe. P.S. To check out Meijer's Black Friday ad for 2015, click here!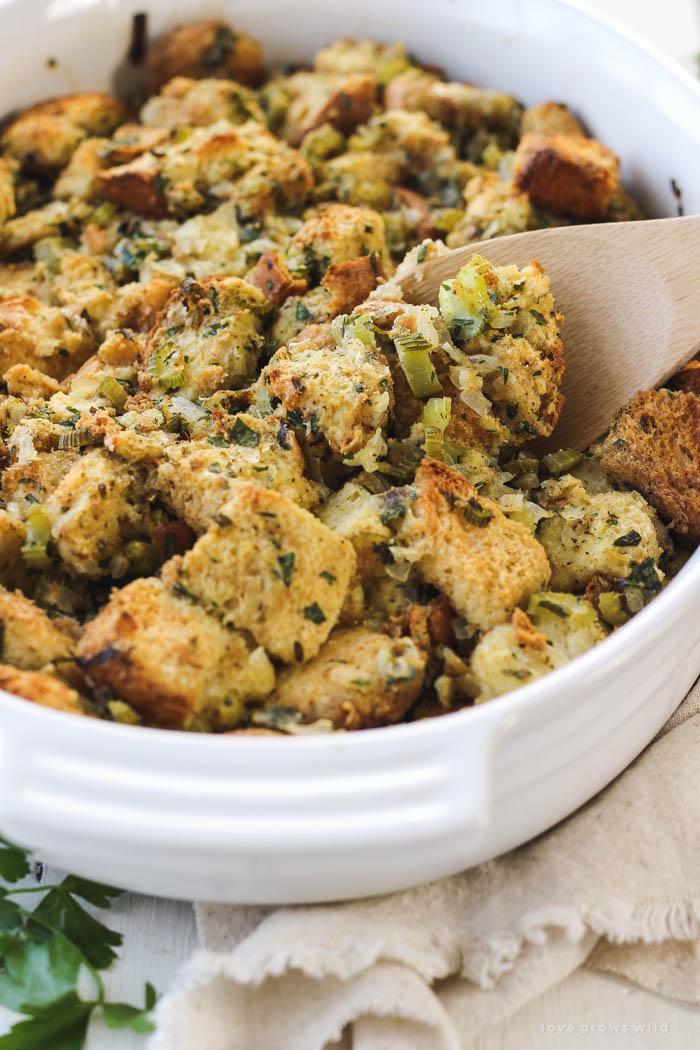 Traditional Homemade Stuffing
This simple homemade stuffing is perfect for weeknight dinners or the holidays!
INGREDIENTS
1 pound firm white bread, cut into 1-inch cubes
2 tablespoons unsalted butter
2 cups onion, finely diced
2 cups celery, finely diced
2½ cups low-sodium chicken broth, divided
¼ cup fresh parsley, chopped
2 teaspoons poultry seasoning
½ teaspoon salt
½ teaspoon black pepper
2 large eggs
INSTRUCTIONS
Preheat oven to 250ºF. Place the bread cubes in a single layer on baking sheets and bake for 1 hour, stirring occasionally. Set aside and allow the bread to cool.
Melt the butter in a large skillet over medium heat. Add the onion and celery and cook for 10 minutes, stirring occasionally, until the vegetables are tender and almost golden. Scrape the vegetables and butter into an extra large bowl and add the cooled bread cubes, parsley, poultry seasoning, salt, pepper and 1¼ cup of the chicken broth. In a small bowl, whisk the 2 eggs and the remaining 1¼ cup chicken broth until combined and pour into the bowl of stuffing. Gently mix the stuffing until all the ingredients are completely combined and place in a buttered 13x9-inch baking dish. Cover the dish with foil and bake for 30 minutes. Then remove the foil and bake for another 25-35 minutes until the center is set and the top is golden brown and crisp.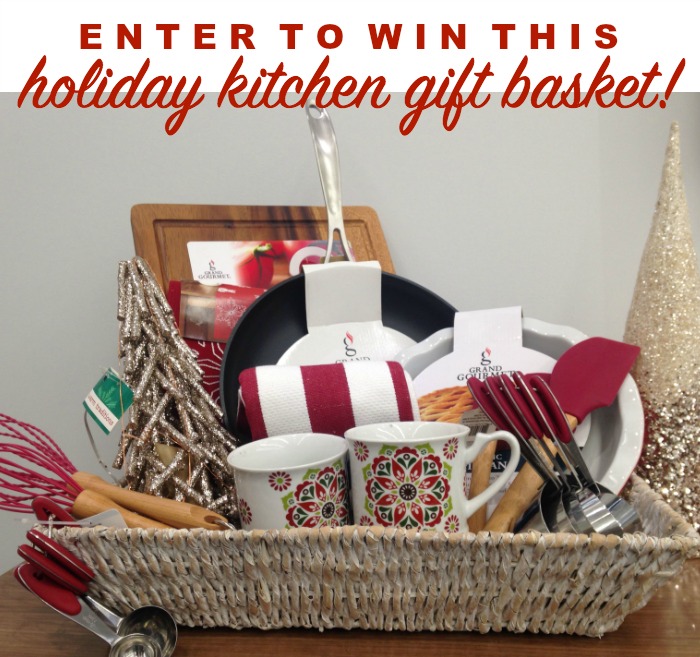 a Rafflecopter giveaway
This post and giveaway has been sponsored by our friends at Meijer, but all thoughts and opinions are 100% my own. This giveaway is not endorsed or affiliated with Pinterest, Facebook, or Twitter in any way. Giveaway begins on November 16th and ends at 12:00am EST on November 23rd. Winner must be 18 years of age, a United States resident, will be chosen at random by Rafflecopter, and notified by email. Winner must respond within 48 hours or a new winner will be chosen. Thank you for supporting the brands that make this blog possible! Good luck!
---
LET'S KEEP IN TOUCH!
---
Subscribe to Blog | Browse my Shop | Follow on Facebook | Follow on Twitter
Follow on Google+ | Follow on Pinterest | Follow on Instagram