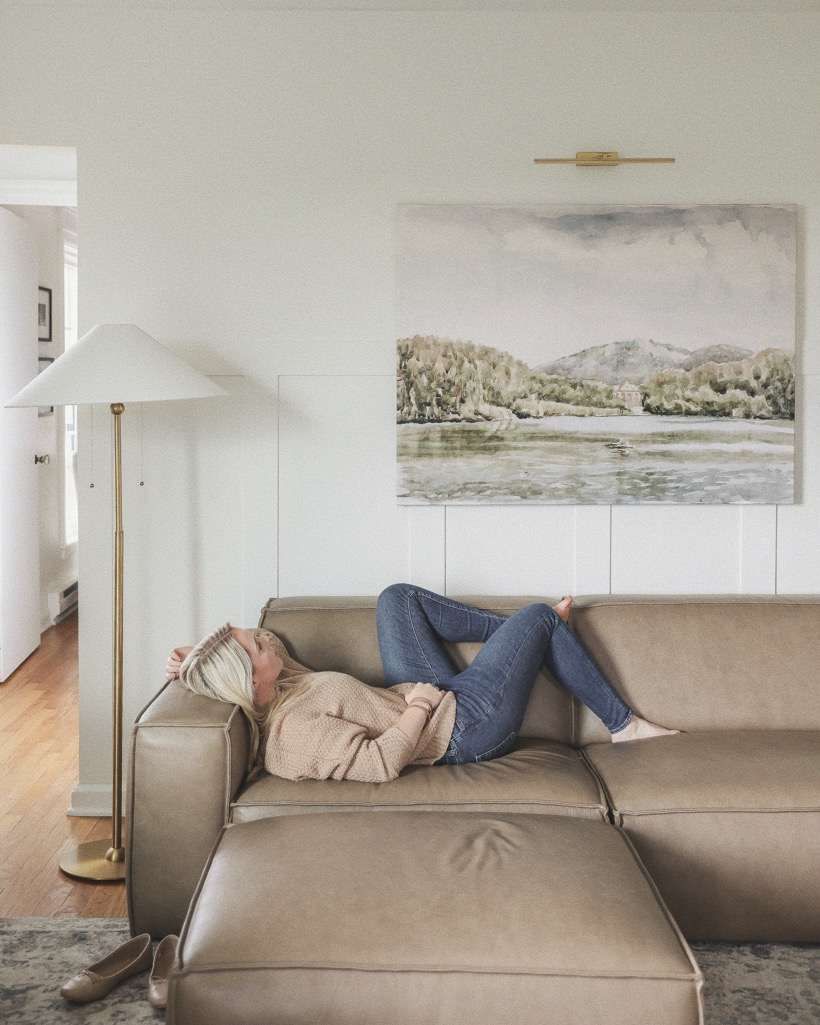 A few weeks ago I revealed the new color we painted the living room – yes it is still white, but it's actually a very different white that fits the age of our 1940's home much better! After we got a fresh coat of paint on the walls and trim, it was time to do a little decorating.
The first thing on my list was a large piece of canvas art to fill the wall space above our leather sofa. I explained here why I decided to take down the top part of our board and batten trim that prevented me from hanging anything on the wall without a large gap. Now I can hang the art flush against the wall, which sounds like such a small detail, but it really makes such a difference in the overall look.
With such a large space to fill, my next challenge was to find an affordable way to get a large scale piece of art that I didn't have to completely diy. There are many ways you could go about this, but I wanted to find a solution that was high quality, efficient, and within my budget.
In this post, I'll go over exactly how I created this beautiful landscape canvas art, including where you can find really affordable (even free!) art and ways you can print, frame, or create a canvas!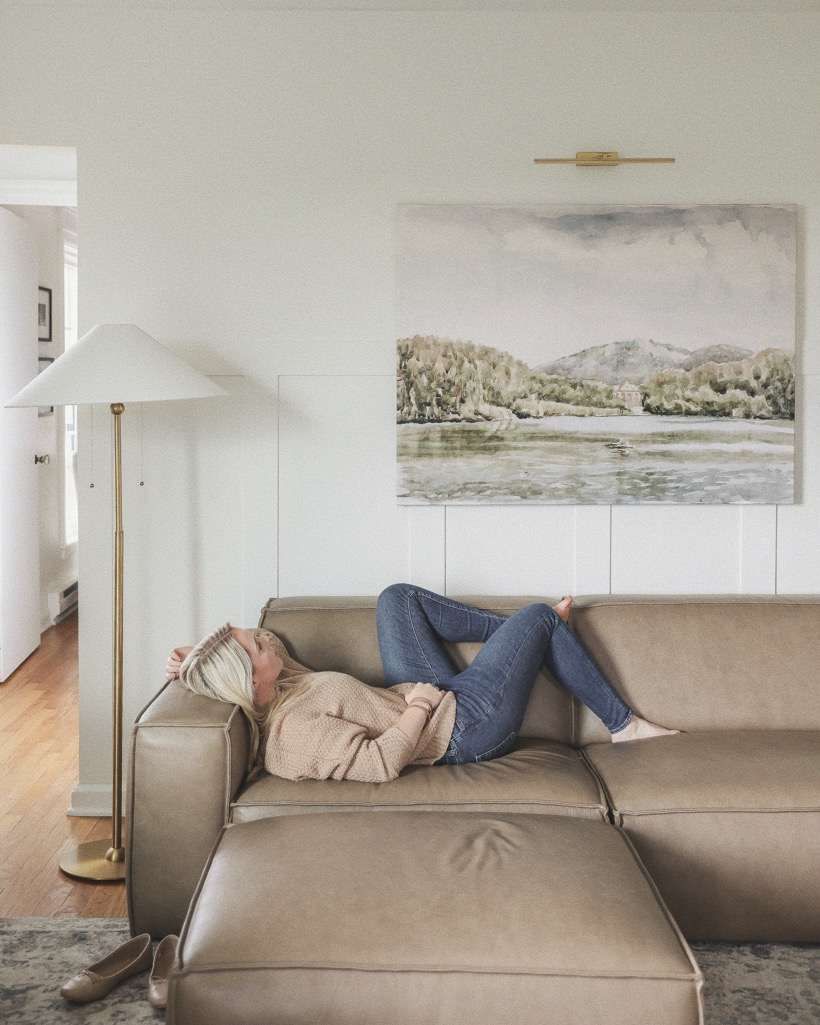 There are thousands of resources out there for buying beautiful, affordable artwork and even some that are considered public domain – a.k.a. free for you to use. Any piece of creative work that is not protected by copyright law is considered "public domain". This means that no individual creator or artist owns the piece, and it is free for anyone to use.
Here are a few places to look for public domain art for your home:
There are thousands and in some cases millions of pieces of free art on the websites above, which can be overwhelming to say the least. This is why I typically utilize shops that do all the hard work of narrowing down the options for you. Even though there is a small fee attached to the artwork purchased through these shops, I feel like it is well worth the price to have a curated collection of options to choose from in a matter of minutes rather than spending hours or even days paging through way too many choices and getting frustrated.
Here are a few shops I like to buy from digital art from: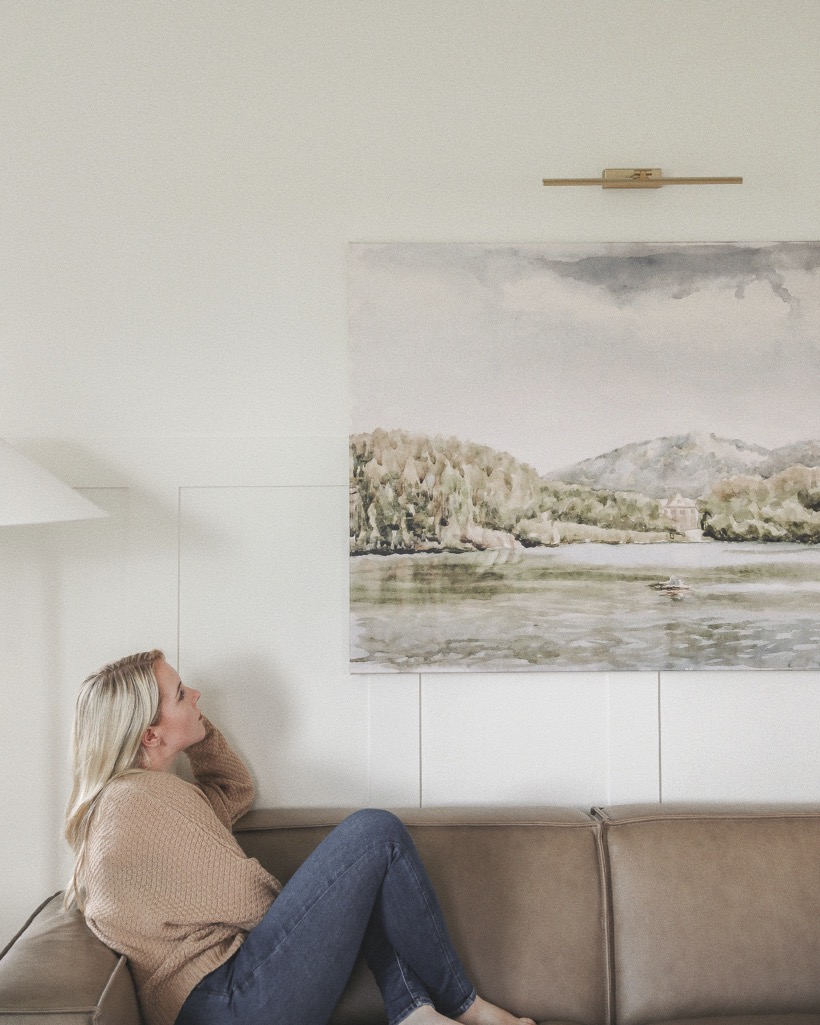 Once you purchase a piece of digital art, you are able to have it printed and framed or turned into a canvas.
Here are a few places to print digital art:
Here are a few places you can have a canvas created:
I went with Canvas Discount for this one in our living room, and you can see below how affordable it was for such a massive canvas – $98 shipping included for a 3 ft x 4 ft canvas.
tip: Most of these places almost always have some kind of sale or discount code available, so take that into consideration when shopping around for prices. For example, the canvas I bought says it originally would have been $409 before tax, and I only paid $98 total.
One last tip:
When it comes time to replace your old TV, I highly recommend considering investing in a Frame TV so you can display digital art prints like these instead of a big black blank screen. They sell the prettiest frames to go around the TV so it legitimately looks like a beautiful piece of art hung on the wall!
____
Read more about decorating your home with art on a budget here.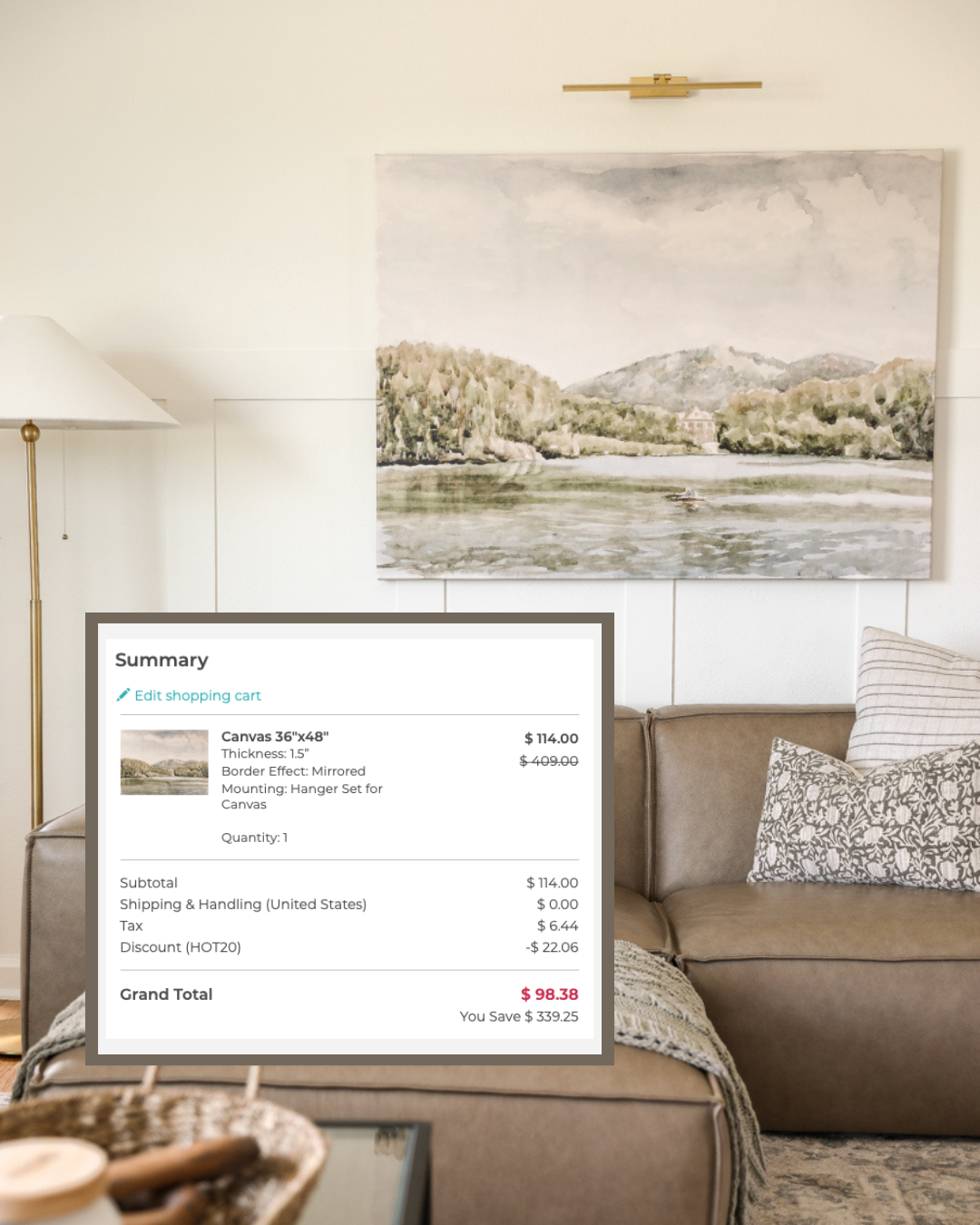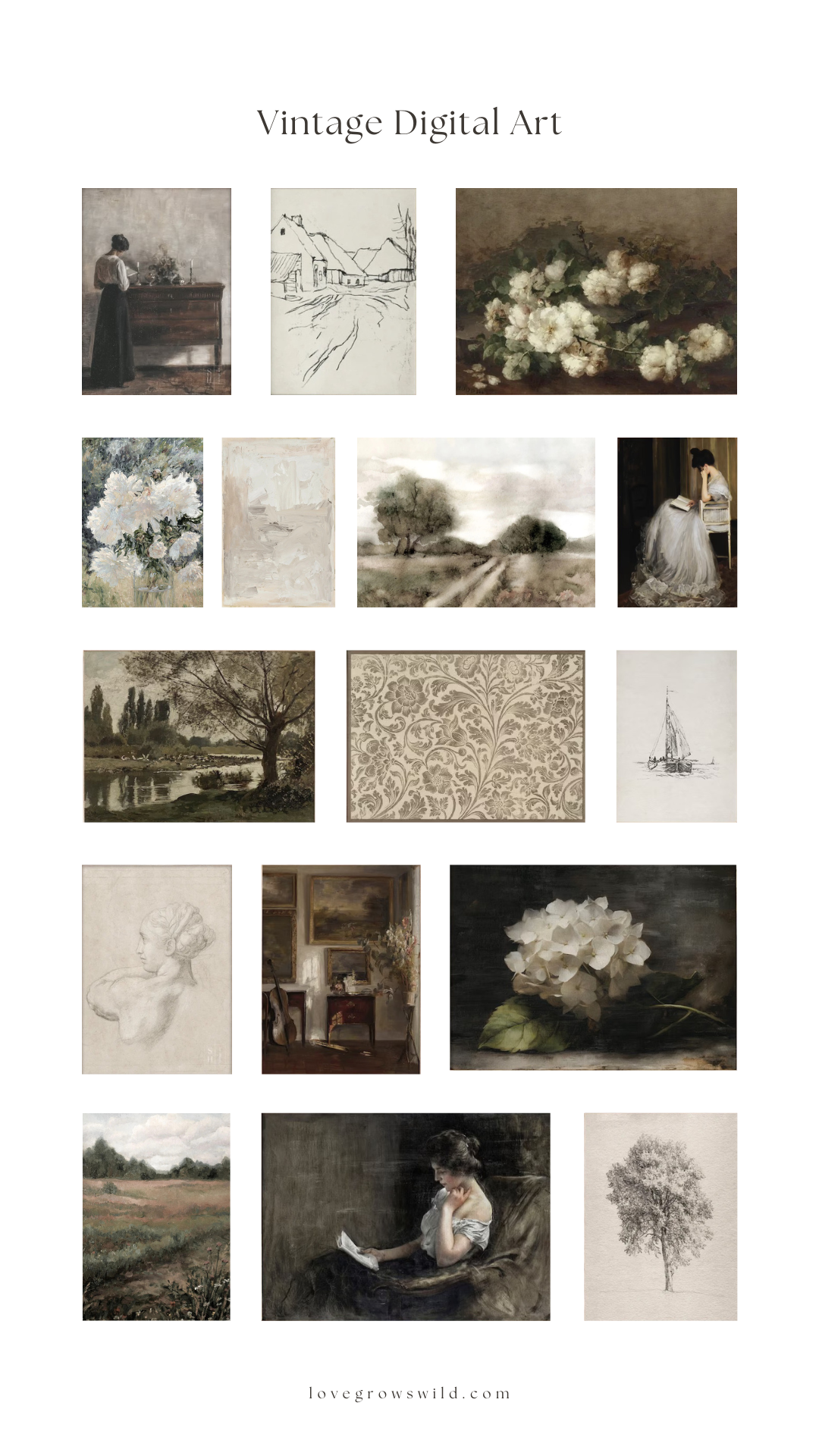 SHOP VINTAGE DIGITAL ART
click any photo below to shop
---
As always, I sincerely appreciate you shopping through the links I share, which allows me to make a small commission from your purchase while your purchase price remains the same. When you use my affiliate links, I'm better able to create content for this blog as well as support my family, and I thank you from the bottom of my heart for supporting what I do!
---
Our Store: Grow + Gather
Shop my Posts | Shop my Amazon Store
Join our Community | Follow on Instagram
Follow on Pinterest | Follow on Facebook